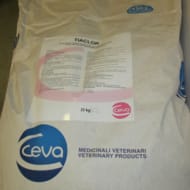 Premix for medicated feed for pigs
Indications for use, specifying the target species Pigs. Infections due to germs sensitive to tiamulin and chlortetracycline. Control and treatment of digestive, respiratory and articular infections
Composition for 1 g: Tiamulin hydrogen fumarate 50 mg; Chlortetracycline hydrochloride 200 mg
Amounts to be administered and administration route
Oral use. To administer in feed.
Pigs:
-5 mg of Tiamulin hydrogen fumarate/kg b.w./day and
- 20 mg of Chlortetracycline hydrochloride/kg b.w./day for 5 days, i.e. 200-400 g of Tiaclor/100 kg feed for 5 days.
Withdrawal periods: Meat and offals : 4 days
Storage: Do not store above 25°C and protected from direct sunlight.
Package: Paper bag with an internal polyethylene layer of 10 kg and 25 kg.